Berkeley Open Infrastructure for Network Computing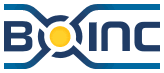 Use the idle time on your computer (Windows, Mac, or Linux) to cure diseases, study global warming, discover pulsars, and do many other types of scientific research. It's safe, secure, and easy.
GridRepublic
members run a screensaver that allows their computers to work on public-interest research projects when the machines are not otherwise in use. This screensaver does not affect performance of the host computer any more than an ordinary screensaver does.